Cherry Casino Review
One of the most stylish and sophisticated casinos around, CherryCasino has been a name in the gaming industry for more than 50 years and is now a provider of the best games and bonuses available.

More than 50 years' of experience
With early beginnings in restaurant casino industry in Sweden, CherryCasino has been providing players with quality gaming since 1963. Since this time, it has been known as one of the most sophisticated casinos in the industry – and this reputation of classy fun has never faltered. As well as offering the best games available and generous bonuses, there's a reason players continue to come back to CherryCasino – it's fun, stylish and, after 50 years, it knows what it's doing.
Bringing offline to online
Launching in 2000 as one of the first online casinos, CherryCasino still offers you the same classy casino experience, but now from the comfort of home. And it also brings what other casinos cannot – more than 50 years of industry knowledge. CherryCasino has learned from its players over the generations and knows what people are seeking… and they offer them just that. And once you begin playing at CherryCasino, it's not hard to see why after 50 years, this casino is still going strong.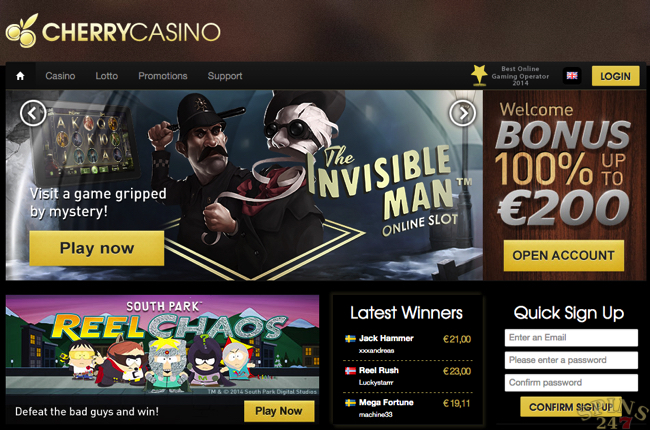 CherryCasino bonus offers
One of the most unique features of CherryCasino is the way in which bonuses are distributed. Firstly, you'll need to make your first deposit, which will allow you to open your welcome package. You can enjoy your choice of four bonuses from a selection of 16 – each with a different offer of free spins, bonus money or a deposit bonus. There's up to €900 in bonus money, 500 free spins to be made – or mix it up with a combination of the two.
Then, the fun really begins. CherryCasino run regular promotional campaigns, each with a different theme. Every day you visit the campaign site, you'll be asked to complete a simple task – answer a question, find a hidden item in the image or more. Once you've completed the task, you'll be awarded with a daily prize of free spins, a deposit bonus or more! There's always something fun going on at CherryCasino and it's different to anything you've seen before – so make sure to check it out.
CherryCasino software
In addition to the website, CherryCasino also offers many of its games and campaigns on a mobile platform – so you can enjoy the same experience anywhere and anytime.
All games at CherryCasino are powered by the best of gaming providers – Net Entertainment, Microgaming, Yggdrasil and Amaya. As well as offering a high standard of gaming, these providers also offer a wide range of themes and bonus features to add more variety into your gameplay.
Casino games
With more than 300 games currently available and new games constantly being added, it'll be a long time before you run out of games to play at CherryCasino. Their biggest selection of games are video slots, with a huge variety of themed games to choose from. Additionally, CherryCasino offers many other categories of games, such as blackjack, roulette, video poker, scratch cards and more. And for a more thrilling experience, you can also play Live Casino, which lets you play roulette and blackjack with a real dealer online – so you can feel like you're in Vegas, all from the comfort of home.
Jackpots
Jackpots are a real favourite at CherryCasino, and there are more than 20 progressive jackpot games to choose from. If you're after real thrills and excitement, make sure to keep an eye on the jackpots board on the CherryCasino homepage, which has a live running of the current jackpot figures. They're constantly growing, and there are constantly big winners at CherryCasino – so it's a matter of being in it to win it.
Conclusion
For a sophisticated and high-quality casino experience, you'll definitely want to check out CherryCasino. Offering the best of games, campaigns and bonuses, it certainly goes to show that with more than 50 years in the industry, experience is always a winner.