Land-based slot machines Vs. online slot machines
Question: What is best? Online or land based slot machines?
A question like this depends of course on preference. But some universal truths can be established:
It is easier to reach an online slot machine.
More bonuses are offered with online slot machines.
There is less exercise with online slot machines.
You will not risk developing a painful "slot machine handle elbow" when playing online.
There are more options online.
You will get less fresh air if you play online but you will not have to pay for transport to the casino.
Playing in a land based casino is more social.
There are no free drinks or meals when playing online.
It is entirely up to you how much you want to let each of these truths weigh when you make your decision. But if you are playing slot machines for financial reasons only, your choice should be simple.
Although, online progressive jackpots does not always reach the heights of the land based jackpot, every other financial factor indicates that the online casino is more profitable.
The online slot machine bonus is a big contributor, but most importantly: Payout percentage for slot machines is generally higher online. We have looked into the payout percentage on some of our favourite casinos both land based and online:
Land based:
Showboat, Atlantic City: 90.6%
Downtown Las Vegas, Nevada: 93.8%
Casino Queen, Illinois, 95.1%
Online:
Spins247.com says: As much as we love free drinks, they cannot be put up against the obvious fact that online slot machines are much more profitable.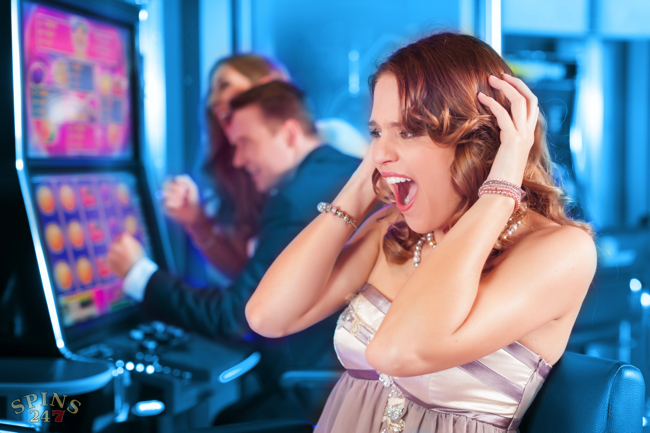 The biggest payout in slot machine history
Question: How big is the biggest jackpot ever paid out on a slot machine and where was it won?
The Reel Story: Every casino and slots room obviously wants to be associated with the biggest jackpot in history, which is probably why the information on the subject varies.
Several sources, however mention the same record slot machine jackpot on land, although different websites have different details.
After extensive research we can quite confidently conclude that the amount was $39,713,982.25 and that it was won on a Megabucks slot machine in The Excalibur Hotel and Casino in Las Vegas on March 21st 2003.
The winner is said to be a 25 year old software engineer who was visiting Vegas because of the NCAA Basketball Tournament.
The previous record was about $34.9 million and was won at the Desert Inn in Las Vegas on January 26th in 2000. This casino is now closed.
Most of the biggest land line slot machine jackpots are usually paid out in certain amounts over a number a years, or deals can be made in order to have it paid out faster.
THE BIGGEST ONLINE SLOT MACHINE JACKPOT?
The record prize of €11,736,375 – equivalent to £10,272,600 or $15,844,900 has been officially recognized as the largest online casino jackpot payout by Guinness World Records. The jackpot was won by a 20-year old Norwegian player on September 24, 2011 on Betsson Casino (licensed by the government of malta).
Net Entertainment (software developer) and Betsson Casino were named as co-owners of the landmark payout record when it was confirmed by Guinness World Records.
Homer J. Simpson says: "If you really want something in this life you have to work for it. Now quiet, they're about to announce the lottery numbers".
Online slot machine jackpots: Tic-tac tic-tac
Question: What about online jackpots? What is the biggest jackpot payout on the Internet and what is the biggest jackpot not paid out?
The Reel Story: The online progressive jackpot amounts are ticking in tact, increasing every day. The biggest land based jackpots are still generally larger, but it's probably only a matter of time before these proportions are changed.
The biggest ever slot machine jackpot paid out online came on the Mega Moolah Progressive Slot Machine at River Belle Casino May 13th 2009. The lucky winner was a 36 year old business owner, husband and father Georgios M. from Greece who walked away with 6.3 million Euros.
The second biggest ever online slot machine jackpot was paid out by InterCasino and the amount was not less than 5.9 million US dollars. Other large payouts include 5,500,000 Euros won by Finnish player Klaus E. in 2008, £2 million at the Millionaires Club online slot at LittlewoodsCasino, which is the largest online slot machine jackpot paid out in the UK so far, $1.7 million at Lucky Nugget Casino and $1.5 million at Captain Cooks Casino.
Progressive jackpots are almost always larger than static jackpots, and the nature of a progressive jackpot is that it keeps increasing until it's paid out. This makes it difficult to track how big the largest progressive online jackpot is and where it can be found.
However, a list of some major ones can be established. Their current amount at the time that this was written is listed below within brackets.
Casino On Net's Millionaire Genie (2,634,222.45)
Microgaming's Mega Moolah (1,036,356.91)
Playtech's Gold Rally (1,012,219.22)
Jackpot Piñatas (1,504,685.00)
Aztec Millions (995,027.91)
Shopping Spree (995,026.00)
Spins247.com says: Be sure to check the terms and conditions before you go to hunt for jackpots. There are cases in the slot machine jackpot history where players thought they won millions but hadn't because they e.g. didn't bet the maximum amount.