Live Dealers - Online Casino Dealers
Games with live dealers represent one of the hottest trends right now in the world of online casinos. Spins247.com took a closer look at this phenomenon with this in-depth series of articles on the topic. You'll learn all there is to know about playing casino games online with live dealers!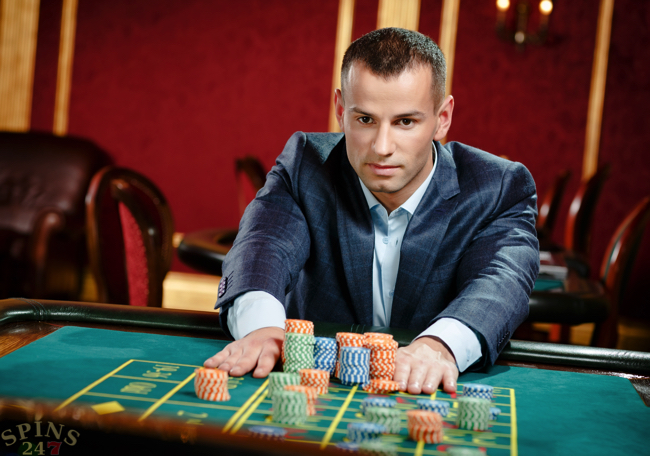 Let's go gamble with the live dealer ladies
Playing casino games online with live dealers is like being Lou Bega in the shooting of the music video for Mambo No. 5. There are girls coming at you from every angle, the next one hotter than the other. A little bit of Erika from LeoVegas Black Jack tables, with blond hair and big black librarian glasses. A little a bit of Swedish model Victoria Silvstedt with maximum MILF factor from Betsafe's live casino. Jump up and down and move it all around with Zanna from Casino Euro, who according to her dealer bio enjoys singing and dancing.
So let's slim the mustache, put on a white suit topped of with a funky hat, and go gamble with the ladies. Or don't shave, sit in your underwear and order pizza delivery. After all, you can see the live dealers, but the live dealers can't see you.
Games with live dealers represent one of the hottest trends right now in the world of online casinos. Casinolisten.com took a closer look at this phenomenon with this in-depth series of articles on the topic. You'll learn all there is to know about playing casino games online with live dealers including:
The history of live dealer games.
How online casino games with live dealers work.
Which casinos offer games with live dealers?
What sort of games and tables are offered with live dealers.
What the best strategy is in a game against a live dealer.
What are the current trends in live dealer games?
Where to find the hottest live dealers.
The history of live dealer games
Live dealer games is a relatively new phenomenon. Playtech was the first software provider that offered live dealer gaming and the first game with a live dealer was introduced back in 2003.
However, due to the lack of speedy Internet connections it would take some time before the live dealer games would become popular. As you are probably aware of, the live dealer games need to be streamed, which calls for a powerful hook-up to the world wide web.
With almost 10 years of experience with live dealer games, Playtech has some of the most sophisticated and innovative live dealer software on the market. You can find their live dealer games on trusted sites such as Mr Green.
Other networks like Microgaming and Evolution joined in on the live dealer trend in 2006, and these days many of the big online casino operators offer a live dealer platform.
Spins247.com have performed thorough testing in the jungle of casinos with live dealer games, and can especially recommend Casino Euro, Unibet Casino and Mr Green.
What are live dealer games and how do they work?
Live dealer games take place in online casinos. More and more online casinos are adding live dealer games to their portfolio of casino games, and the response from players around the world is reported to be through the roof which is easy to understand.
The difference between a casino game in a brick & mortar casino and a live dealer casino game is that the live dealer casino game is played on the Internet. The main difference between a normal online casino game and a live dealer casino game is that your cards are dealt to you by a real person instead of software controlled by a random number generator. In this way one could view the live dealer casino game as something between a brick & mortar casino game and a standard online casino game.
Once you press the button in an online casino that offers live dealer games you will be escorted to a menu where the different live dealer games are presented. You then choose the game, the stake, and the dealer of your preference. At this point you are ready to hit the tables, all set to gamble. A casino room will appear on the screen in front of you, along with the table and the dealer you had chosen from the previous screen. This casino room will look just like your local casino, because it is in fact an actual casino room. The only difference is that this particular casino room is equipped with a lot of webcams through which the live action is streamed home to computers around the globe.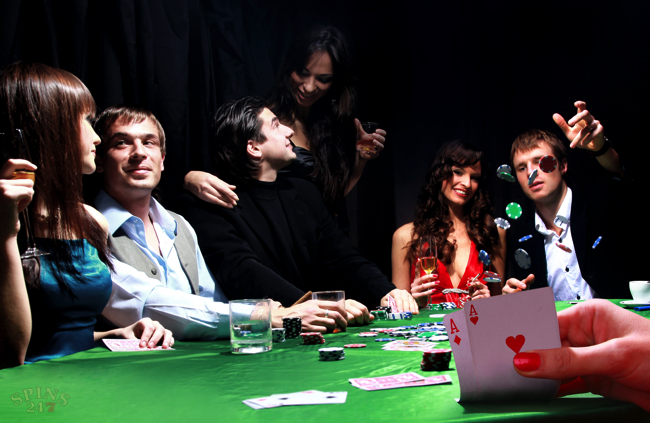 Is it safe to play live dealer games online?
Although online transactions are getting more and more common, people generally have a natural skepticism towards placing their money on the Internet. Some times this skepticism has valid grounds, but as long as you deposit money to known casinos it is extremely rare to get ripped off.
There have been examples of fraud live dealer casinos that accept your money but do not allow you to play, but these fraudsters do not stay around for long. The big online casino operators have too much to lose, and it is logical to assume that they would never speculate in fraud as this would hurt their reputation and eventually put them out of business. The casinos make their money from something referred to as house edge, meaning they will pay back a certain percentage close to 100 of the player's total wagers. So as you long as you stick with the casinos mentioned here on Casinolisten.com you should be safe. Should any conflicts arise you can rest assured that you will get a reply from the casino's customer service department to clarify all issues or questions.
The three most common live dealer games in 2011 are blackjack, roulette and baccarat. Blackjack and baccarat are played with cards, while roulette is played with a ball on a wheel. The cards used for blackjack and baccarat typically have a magnetic chip in the middle. So when the dealer draws a card from the card box, you will see that she drags the card over a receiver just outside the card box so the system recognizes the card electronically. You can of course also see these cards and check that what is electronically recognized is correct according to the cards you see on the screen.
There have been speculations in various forums saying some live dealer casinos use magnets to control the outcome of the roulette tables, but there seems to be no basis for these complaints. Despite the myths about time lapses in streaming and other untrue ideas about rigging, live dealer games are quite simply a dealer being filmed and the video being transmitted to the game players.
The system on the roulette table is similar to the system used for live dealer card games, where the number is electronically recognized in the live dealer system when the ball lands in one of the slots. As with the live dealer card games you can see this number for yourself and make sure that the recognized number is correct.
What games are offered with online live dealers?
It seems reasonable to assume that all standard casino games that are now played with a dealer in land based casinos will become available online with live dealers. However, barely a handful of games are common within the live casinos as of September 2011.
You will find blackjack, roulette and baccarat at the most of the live dealer casinos, while some rooms offer casino hold'em, mahjong, paigow and sic bo. As previously mentioned, craps will probably also be added to the platform of several software providers shortly.
All the live dealer casinos have tables for each game with different stakes. Bet24 Casinofor example have four live dealer roulette tables (Roulette €1-25000, Roulette VIP €2-5000, French Roulette €2-5000, Auto-Roulette €0.1-10000), seven live dealer blackjack tables (Blackjack VIP, BJ Extra, €5-1000, €5-500, €25-1000, €35-1000, €50-5000), and two live dealer baccarat tables (Baccarat €1-1000, Baccarat VIP €2-2000). The Betsafe Casino operates with the same tables as Bet24, but offers roulette tables with optional 3D view.
The tables are more or less the same, with the only difference being the minimum and maximum stakes. You will find that the tables with the lowest stakes are often full, especially if there is a particularly good looking girl dealing the cards or running the game.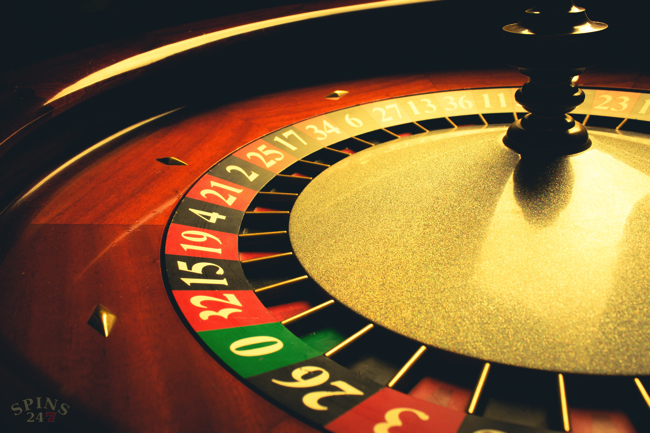 Live dealer game strategy | The best strategy
The best strategy for live dealer casino games is naturally very similar to the best strategy in normal casino games. Spins247.com has published in-depth articles about strategy for blackjack, roulette, baccarat and craps that you should check out for more background on this topic.
Read all about the seven deadly sins of blackjack here. We have also posted theanswers to all difficult blackjack decisions here. If roulette is your game of preference, you can read more about how to find what we called the reversed house edge here. If you are unfamiliar with craps and casino hold'em you can also read more about rules, game play and strategy here (casino hold'em) and here (craps).     
Quite possibly the best way to find an edge when it comes to live dealer games is to take full advantage of all the generous bonus offers that the online casinos have to offer. The competition between the online casinos is intense, and the fight for new players motivates the online casinos to come up with higher, better and more creative bonus solutions. Casinolisten.com has reviewed the bonus offers of six large casinos which you can read more about here.
Although there are clear similarities between the strategy for standard casino games and casino games with live dealers, there are also distinct differences to the optimal strategy which you should apply to your game play in order to maximize profits.
These differences are related to practicalities rather than game theory. First and foremost you need to have a fast and reliable Internet connection. Betfair recommends a download speed of 450 kbps (kilobytes per second) to use their low quality service, and at least 750 kbps for their high quality videos. To avoid buffering all together Betfair recommends a speed of 1 megabyte per second. Further on, depending on how reliable your Internet Service Provider is, it might be a good idea to have a backup connection in case of downtime. Nowadays you can buy USB sticks that you can just plug into your computer and easily connect to the Internet with reasonable speed. These USB sticks can normally be bought with "pay as you use" plans, so it makes sense to have one lying at home or in your laptop bag just in case.
To some extent the "strategy" of having a fast and reliable Internet connection applies also for "standard" casino games without live dealers, but the need for speed isn't that great here, neither are the consequences of downtime. When you are dealt a hand in e.g. blackjack in a casino without a live dealer, the system will typically wait for your decision, even if it takes several minutes. This is not the case when you are playing against a live dealer. You will be granted some time to make a decision, but after a while, if you don't choose to draw, double or split the live dealer will interpret this as a request to stay (not hitting any more cards), and she will move on to deal the next player's cards.
Sometimes this will save you from busting (going over 21), but then again it is very frustrating see that the player next to you is handed a picture card or a ten when you were sitting there with 11 and clicking 20 times on "hit" without the system recognizing it because of lag time. Bottom line: In order to beat the casino you need to play optimal blackjack strategy, so unless your name is Gladstone Gander you really need a fast and reliable Internet connection.
The issue of connection speed mainly applies to blackjack because in other games like roulette and baccarat you are only opted to make decisions at the start of a game. Once that ball has spun a few times on the wheel it is all down to gravity. If your connection starts to lag after you have placed your bet, you will still receive your winnings if your pick was correct, and if you cannot place a bet on the next round, your bankroll will remain the same.
How to interact with the live dealers
This should not be news but just like in a land based casino common courtesy also applies when interacting with live dealers online. We have laid out some ground rules in case you are completely lost:
Do not be offensive. No profanities, please.
Do not accuse the live dealer of cheating if you are loosing. She is not cheating!
Do not be afraid to chat. Many of the live dealers seem to enjoy interacting with the players if the conversation is kept at a decent level. Their job will be boring if no one talks to them!
Be careful if you are chatting to someone else while chatting with a live dealer. Trust us, it could be awkward of you write in the wrong chat window and hit enter.
It's OK to flirt but a live dealer casino site is not a dating site even if we have yet to find a live dealer bio that says "in a relationship".
Stick to these rules and the game will be enjoyable for everyone.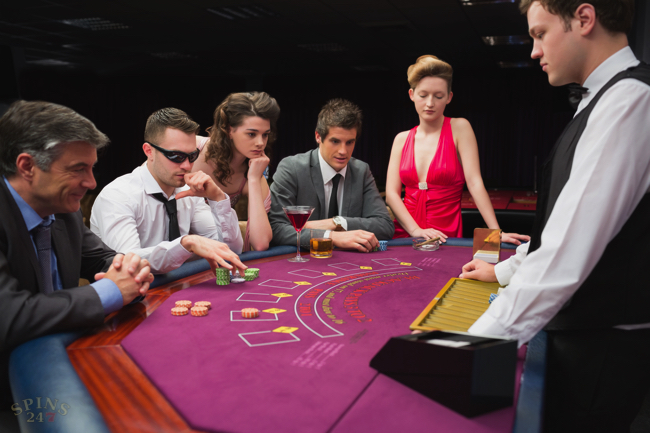 Where to find the hottest casino live dealers
The house edge is more or less the same for all the live dealer casinos recommended here on Casinolisten.com. Only fractions separate them from each other when you investigate their payout percentage. The game play feeling is also very similar for each of the recommended live dealer casinos, some of the sites even use the same dealer rooms with the same live dealers.
So how do you choose a site to play at? As mentioned in our article about bonuses, you should try to find the casino that offers the best bonus for live dealer games, and you should also maximize profits by playing at more than one casino to take advantage of more than one bonus scheme.
Which brings us to another deciding factor when choosing your live dealer casino: Which site has the friendliest and the hottest live dealers?
This may come as a surprise, and we are not entirely convinced that is totally truthful, but after reviewing the dealer staff of each casino we have yet to find one single live dealer bio that says "in a relationship". Apparently they are all single!
After gazing upon many stunning beauties while writing this review, we have picked out a chosen few that made it particularly interesting to play:
Aleksandra on LeoVegas baccarat and blackjack tables has great small-talk qualities. She seems to have the ability to keep a genuine smile on her face no matter what the subject is.
Julija, also from Mr Green, does not need any small-talk qualities. Has a pair of hypnotizing eyes that could almost make you agree to hit again when you have two picture cards at the blackjack tables. All in all Mr Green takes the 1st prize for the hottest and the friendliest live dealers.
Unibet is a close 2nd; Diana, Jekaterina, Evita and Sabine would all raise some eyebrows if they replaced the girls from Lou Bega's Mambo No. 5 music video, as would Zanna from Casino Euro.
The girl presenting the game of roulette on Unibet's website is also impossible to forget with a slim black dress. We wish we knew her name. At Mr Green they mix it up with both European and Asian live dealers. So take your pick!
What is next in live dealer casino games?
So what's new and what's next in the marketplace of live dealer casino games?
When looking to the future of live dealer games Playtech (Betfair) is once again a name to watch out for, as rumors say they will add craps with live dealers early in 2012. The gaming giant with its headquarters on the Isle of Man recently refurbished their live dealer room in Latvia with aesthetic changes and technological improvements such as enhanced game capture and high definition streaming capability.
Blackjack is perhaps the most popular live dealer game. Naturally a lot of effort is put towards keeping the live dealer software for this game innovative. One new invention is something referred to as early payout blackjack. With this version of the game the software will tell you what move is the most profitable one at all time. This will eliminate all rookie mistakes and make your chances of profit much higher. 
Another new live dealer trend is poker related. Poker players usually don't really want to see the dealer, but they would love to see the other players and possibly pick up any tells. So what's the solution? The casino streams each player's webcam and shows it to the rest of the table, making it "live poker" online.